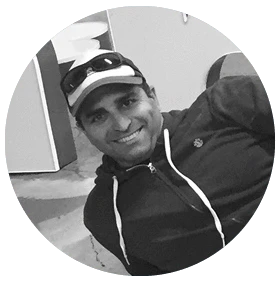 Armen Filian
General Manager
Armen started out at our Mission Bay store, helped open our old 16th St. store, did a stint at our Sunnyvale store, was GM of our Presidio store, hopped over to Bryant Street, then launched our Berkeley store only to follow up by launching our Novato store. Phew! He's always been a gearhead - riding BMX and mountain bikes, skiing, camping hiking and playing sports from a young age. Thanks to his time at SB, he's also tried out triathlons, open water swimming, trail running and more, though nowadays his time is spent introducing his three gorgeous kiddos to the wonderful world of the outdoors.
You like us! You really like us!
Steve Ford
John runs an efficient and inviting Bike Department at the Santa Rosa location. He communicates clearly with customers over the most complex and technical mechanical fixes and diagnoses. I have found the whole department staff approachable and helpful. SBSR is not yet well known as a source for equipment and service as it is still a very young store. This will change fast as more customers visit and get to know their reputation for quality, service and an overall good vibe.
Mark Miller
Staff was very helpful as I looked for cycling items. And they added cashiers when the line only had three people.
Glenn Roberts
This is a long overdue review for John Blackwell in the Santa Rosa bike department. I had taken my bike to the repair department of a well-known bike store with multiple Bay Area locations to fix a derailleur issue. After three attempts, the last of which involved the installation of a washer that did not belong on the bike, failed to fix the problem, I went to Sports Basement's Santa Rosa store. John diagnosed the problem, ordered the necessary part and fixed my bike on his first attempt and it's felt like a brand new bike ever since. John was helpful, friendly and communicative and will be my go-to guy for service and repair going forward.
Mark Nicholas
Cool store, friendly staff, good prices. It's literally set up like a basement, all in all better than dicks