48 CM
51 CM
54 CM
56 CM
58 CM
60 CM
62 CM
Description
Components
Geometry
Description
Brakes

Shimano 105 Hydro Disc

Crank

Cannondale 1

Drivetrain

Shimano 105

Frame

Ballistec Carbon

Wheels

Fulcrum Racing 900 Db
A road bike that represents the best possible blend of aerodynamics and low weight. Feather light. Bullet quick.
Frame: All-New, Ballistec Carbon, Integrated Cable Routing W/ Switchplate, 142x12 Speed Release Thru-Axle, Save, Pf30a, Flat Mount Disc, Integrated Seat Binder
Fork: All-New, Ballistec Carbon, Save, 1-1/8" To 1-1/4" Steerer, Integrated Crown Race, 12x100mm Speed Release Thru-Axle, Flat Mount Disc, Internal Routing, 55mm Offset (47-54cm) 45mm Offset (56-62cm)
Rims: Fulcrum Racing 900 Db
Hubs: (F) Fulcrum Racing 900 Db, 12x100 / (R) Fulcrum Racing 900 Db, 12x142
Spokes: Fulcrum, Stainless Steel Tires: Vittoria Zaffiro Pro Slick, 700 X 25c
Crank: Cannondale 1, Bb30a, Fsa Rings, 52/36
Bottom Bracket: Cannondale Alloy Pressfit30
Chain: Shimano Hg601, 11-Speed Rear
Cogs: Shimano 105, 11-30, 11-Speed
Front Derailleur: Shimano 105, Braze-On
Rear Derailleur: Shimano 105 Gs
Shifters: Shimano 105 Hydro Disc, 2x11
Handlebar: Cannondale 3, 6061 Alloy, Compact
Grips: Cannondale Grip Bar Tape W/Gel, 3.5mm
Stem: Cannondale 3, 6061 Alloy, 7-Degree
Headset: Supersix, 1-1/4" Lower Bearing, 25mm Top Cap
Brakes: Shimano 105 Hydro Disc, 160/160mm Rt54 Rotors
Brake Levers: Shimano 105 Hydro Disc
Saddle: Prologo Nago Rs Stn
Seatpost: All-New Hollowgram 27 Knøt, Alloy, 2 Bolt Clamp, 330mm
Perks of buying with Sports Basement:
1 FREE bike service
Free bike service with bike purchase must be claimed within 90 days of purchase. Prices are subject to change by level of difficulty. Prices listed do not include parts.
BIKE MAINTENANCE

Basic Tune
$95

Check/adjust hubs, BB, headset
True F+R wheels and adjust spoke tension by hand
Clean/adjust F+R derailleurs and F+R brakes
Lube chain and cable housing
Wipe down fork stanchion and lube with fork oil
Grease stanchion port if any
Clean rotors and sand uneven pads
Check and tighten all bolts to manufacturer spec (cranks, chain ring, pedals, stem, handle bar, bottle cage, seat post, saddle, brake levers, rotors)

Drive Train Cleaning

$85

Remove and clean chain, pedals, crankset, chain rings
Remove and clean BB, F+R derailleurs, cassette
Align rear derailleur hanger
Reinstall and adjust all above parts
Clean brake calipers

Major Tune

$170
Includes a Basic Tune and Drive Train Cleaning

Overhaul
$280
Major Tune plus the following:

True/round/dish F+R wheels and re-tension spokes with tensiometer
Disassemble, lube, and reassemble F+R hubs
Disassemble, lube, and reassemble headset
BIKE BUILDS
Hourly Rate

$85/hour
New from box
$120
Used from box
$85
Pro Build
$255
50% off one bike fit
PROFESSIONAL BIKE FITTING (learn more).
Call your local store to schedule.
Basic Bike Fit (50% off with bike purchase)
$150
Premium FIST Bike Fit (50% off with purchase of road race or tri bike)
$250
Fit adjustment
$45
Trade in your old bike
Ready to upgrade to a new bike? Don't deal with Craigslist–come to Sports Basement! We'll give you the value of your old bike in store credit, so you can make your old bike help pay for your new one.
Powered by BicycleBlueBook.com
Components
Frame: All-New, Ballistec Carbon, Integrated Cable Routing W/ Switchplate, 142x12 Speed Release Thru-Axle, Save, Pf30a, Flat Mount Disc, Integrated Seat Binder
Fork: All-New, Ballistec Carbon, Save, 1-1/8" To 1-1/4" Steerer, Integrated Crown Race, 12x100mm Speed Release Thru-Axle, Flat Mount Disc, Internal Routing, 55mm Offset (47-54cm) 45mm Offset (56-62cm)
Rims: Fulcrum Racing 900 Db
Hubs: (F) Fulcrum Racing 900 Db, 12x100 / (R) Fulcrum Racing 900 Db, 12x142
Spokes: Fulcrum, Stainless Steel Tires: Vittoria Zaffiro Pro Slick, 700 X 25c
Crank: Cannondale 1, Bb30a, Fsa Rings, 52/36
Bottom Bracket: Cannondale Alloy Pressfit30
Chain: Shimano Hg601, 11-Speed Rear
Cogs: Shimano 105, 11-30, 11-Speed
Front Derailleur: Shimano 105, Braze-On
Rear Derailleur: Shimano 105 Gs
Shifters: Shimano 105 Hydro Disc, 2x11
Handlebar: Cannondale 3, 6061 Alloy, Compact
Grips: Cannondale Grip Bar Tape W/Gel, 3.5mm
Stem: Cannondale 3, 6061 Alloy, 7-Degree
Headset: Supersix, 1-1/4" Lower Bearing, 25mm Top Cap
Brakes: Shimano 105 Hydro Disc, 160/160mm Rt54 Rotors
Brake Levers: Shimano 105 Hydro Disc
Saddle: Prologo Nago Rs Stn
Seatpost: All-New Hollowgram 27 Knøt, Alloy, 2 Bolt Clamp, 330mm
Geometry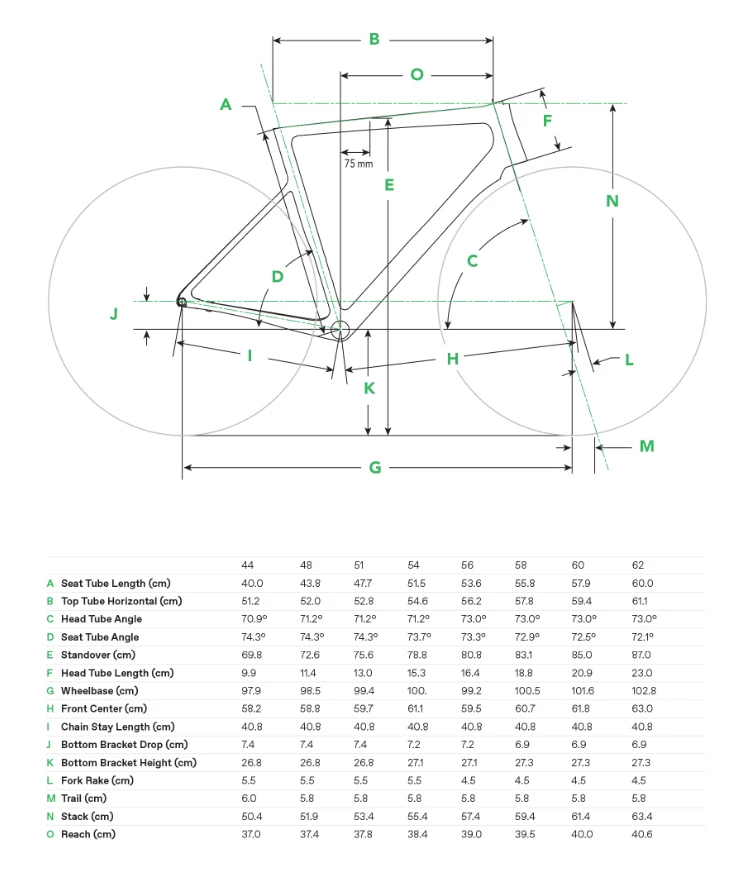 We will call you to arrange your curbside pickup
Black Pearl / 48 CM / Article #100199392008