3-Hour Curbside & In-store Pickup
Pick-up any available item at your local Sports Basement
Simply choose pickup at your store under shipping options at checkout.
Free Bike Maintenance For 6 Months
article #
The Ripmo AF (Aluminum Frame) brings the award-winning performance of the carbon Ripmo to a wider, rowdier audience. It's everything you love from the carbon Ripmo, plus a few tweaks. With a steep, 76-degree seat tube angle and a rangy but not stratos­pher­ic reach, the Rip­mo AF places rid­ers cen­tral­ly and upright over the bot­tom brack­et. It makes for an effi­cient posi­tion that can go the long haul with­out plac­ing too much weight on its slack, 64.9-degree head­tube angle. A 44mm reduced-off­set fork is more sure­foot­ed on steep descents and stead­ies high speeds. Bet­ter up, bet­ter down. Ibis helped pio­neer the wide rim rev­o­lu­tion, which inspired the new crop of wider 2.4" — 2.6" tires. When paired togeth­er, this com­bo can be run at ultra low pres­sures which results in elbow-drag­ging cor­ner­ing trac­tion with­out sac­ri­fic­ing straight line speed.
The Rip­mo AF is com­pat­i­ble with both coil and air shocks due to a more pro­gres­sive lever­age rate. It allows for coil's lin­ear­i­ty to thrive and we spec air shocks with tunes that pro­vide pop with­out feel­ing too harsh. On the trail, it gives the sus­pen­sion a sup­ple feel through­out the entire­ty of the stroke, enhanc­ing trac­tion no mat­ter how deep you dig. Ibis frames are designed to accom­mo­date the longest drop­per posts pos­si­ble. Rid­ers over 5'8 (or 173cm) can eas­i­ly run a 185mm drop­per post, while folks between 5' and 5'8 (152cm — 172cm) can use a post 125mm or longer depend­ing on inseam length.
DVO: Cus­tom tuned DVO suspension
2.6" Tire Clearance
Long Dropper Post
Removable ISCG05 Mount
Seven Year Warranty
Dropper Post
KS Rage-i Dropper (125, 150 or 170mm)
| Component | Part |
| --- | --- |
| Fork | DVO Onyx D1 | 15QRx110 - 160 (29") |
| Shock | DVO Topaz T3 Air, 210 x 55 |
| Wheels | Ibis S35 Aluminum / 29" / Ibis Hubs |
| Tires | Maxxis Assegai 29" x 2.5" WT, EXO+ casing, 120tpi |
| Brakes | SRAM G2 R 4p |
| Brake Rotors | SRAM Centerline 6 bolt 203mm/180mm |
| Cranks | SRAM NX Eagle DUB, 30t Alloy Ring S/M: 170mm, L/XL: 175mm |
| Bottom Bracket | SRAM DUB BSA |
| Rear Derailleur | SRAM GX Eagle |
| Shift Levers | SRAM NX Eagle |
| Cassette | SRAM XG 1275 10-50 12 speed |
| Chain | SRAM NX Eagle |
| Headset | Cane Creek 40 ZS44/ZS56 |
| Grips | Lizard Skin Charger |
| Handlebar | Ibis 780mm Alloy |
| Stem | Ibis 31.8mm S/M: 40mm, L/XL: 50mm |
| Seatpost | KS Rage-i Dropper S: 125mm, M: 150mm, L/XL: 170mm 120, 150 or 170mm |
| Saddle | WTB Silverado 142 |
* Specs subject to change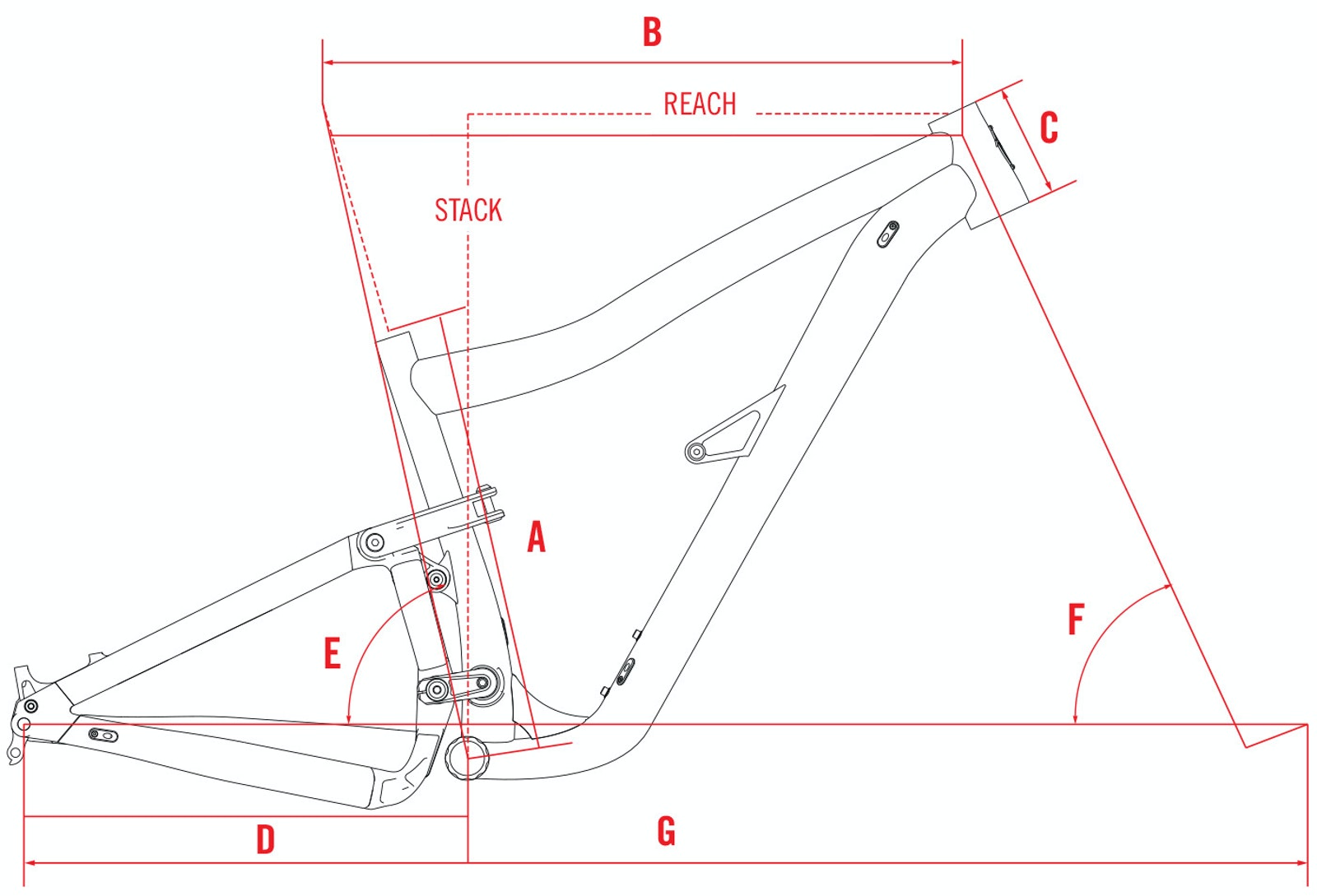 | RIPMO AF NGX | | S | M | L | XL |
| --- | --- | --- | --- | --- | --- |
| Seat Tube Length (in) | A | 14.5 | 15 | 17 | 19 |
| Top Tube Length (in) | B | 22.6 | 23.7 | 24.9 | 25.8 |
| Head Tube Length (in) (4mm stack of lower cup not included) | C | 3.5 | 3.9 | 4.3 | 4.7 |
| Chainstay Length (in) | D | 17.1 | 17.1 | 17.1 | 17.1 |
| Seat Tube Angle | E | 77° | 76° | 76° | 76° |
| Head Tube Angle | F | 64.9° | 64.9° | 64.9° | 64.9° |
| Wheelbase (in) | G | 46.7 | 47.9 | 48.7 | 49.7 |
| BB Height (in) (with 2.6 Schwalbe Nobby Nicks) | | 13.4 | 13.4 | 13.4 | 13.4 |
| Stack (in) | | 24.1 | 24.4 | 24.8 | 25.3 |
| Reach (in) | | 17 | 18 | 18.7 | 19.5 |
| Standover (in) | | 27.8 | 29.5 | 29.5 | 29.9 |
| Trail (in) | | 4.5 | 4.5 | 4.5 | 4.5 |
| BB Drop (in) | | 1.2 | 1.2 | 1.2 | 1.2 |
| Saddle height for seat tube angle (in) | | 25.6 | 27.6 | 29.5 | 31.9 |
| RIDER HEIGHT | BIKE SIZE |
| --- | --- |
| 5'0" - 5'5" | S |
| 5'4" - 5'9" | M |
| 5'8" - 6'1" | L |
| 6'0 - 6'6" | XL |