Buckle up and get ready to charge, the Repeater is down for anything. With 160mm travel, 29 inch wheels, the Shimano EP8 motor system, and a 630w battery, you can maximize fun on the ups and the downs. Whether it's a quick rip after work, ditching the shuttle truck, or just the pure joy of exploring that you are after, the Repeater loves it all. Like all of their other beloved bikes, the Repeater has SBG geometry and the GiddyUp suspension, so you'll feel right at home the moment you turn on the power.
The Repeater comes equipped with a Shimano EP8 system that delivers 85Nm of torque, 250W continuous power and 500W peak power. All build levels come with Shimano's top of the line full color display, making it easy to tell which mode you are in with a quick glance.
The Shimano 630Wh battery is easily removable with a 4mm allen wrench so you can easily swap to a spare for increased range, or get more laps while your other battery is charging. The full Shimano system means there are no custom wires, plugs or proprietary chargers, so you can find replacement parts anywhere and even borrow a charger from a friend.
Battery
Shimano BT-E8036 (630Wh)
| Components | Parts |
| --- | --- |
| Frame | Repeater Carbon 160mm |
| Drive unit | Shimano DU-EP800 - Class 1 |
| Battery | Shimano BT-E8036 (630Wh) |
| Display | Shimano SC-EM800 |
| Assist switch | Shimano SW-EM800 |
| Rear shock | Fox Float X Performance. (205x65mm) |
| Fork | RockShox ZEB R, 160mm, 44mm Offset, 1.8 taper |
| Headset | Acros ICR |
| Stem | RaceFace Aeffect R (40mm) |
| Handlebar | Raceface Chester Alloy. SM/MD (780x20) LG/XL (780x35) |
| Grips | ODI Elite Flow Lock-On |
| Saddle | ANVL Forge Cromo |
| Seatpost | OneUp Dropper Post. SM (150mm) MD (180mm) LG/XL (210mm) |
| Brakes | Magura MT5 w/ HC1 Levers |
| Rotors | Magura MDR-C (203mm) |
| Shifter | SRAM NX Eagle Single Click |
| Derailleur | SRAM NX Eagle |
| Cassette | SRAM PG 1230 (10-50t) |
| Chain | SRAM NX Eagle |
| Crank | Shimano EM600 (34t/160mm) |
| Chain guide | OneUp STEPS |
| Rims | Stans Flow D |
| Spokes | Pillar 2.0mm Straight Gauge |
| Hubs | Novatec D791SB-B15/D902SB-B12 |
| Tire/front | Schwalbe Magic Mary, Super Gravity, Ultra Soft (29x2.4) |
| Tire/rear | Schwalbe Big Betty, Super Gravity, Soft (29x2.4) |
| Included | Shimano EC-E6002 Charger. Tubeless Valves & Stans Sealant (6oz) |
| Weight | 23.1kg / 50.8lbs (Size MD) |
* Specs subject to change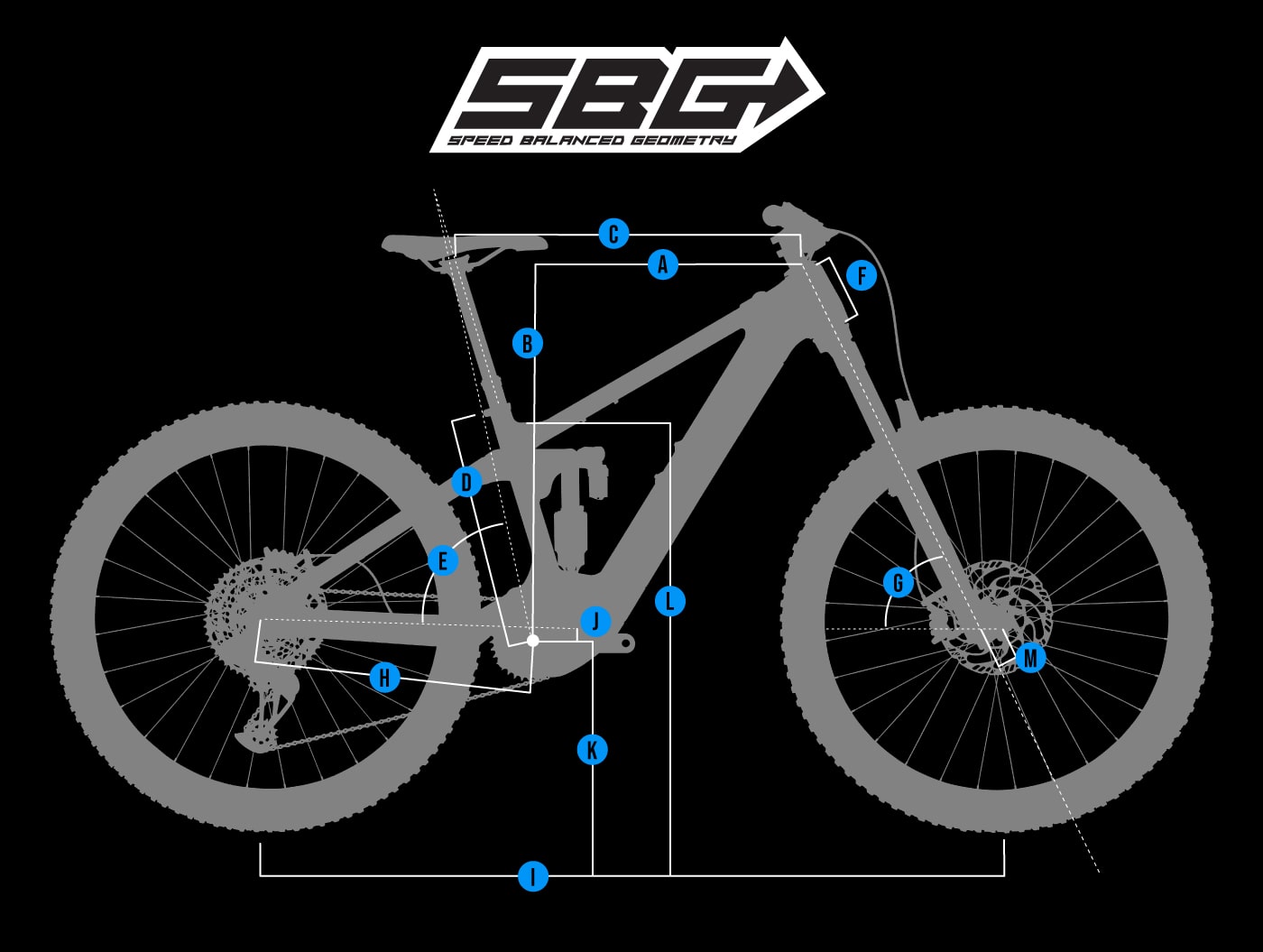 | FIG. | SM | MD | LG | XL |
| --- | --- | --- | --- | --- |
| A. REACH | 425 / 16.7 | 455 / 17.9 | 480 / 18.9 | 510 / 20.1 |
| B. STACK (mm/in) | 631 / 24.8 | 631 / 24.8 | 640 / 25.2 | 649 / 25.6 |
| C. EFFECTIVE TT LENGTH (mm/in) | 559 / 22.0 | 589 / 23.2 | 617 / 24.3 | 650 / 25.6 |
| D. SEAT TUBE LENGTH (mm/in) | 375 / 14.8 | 400 / 15.7 | 440 / 17.3 | 470 / 18.5 |
| E. EFFECTIVE ST ANGLE | 78.4° | 77.9° | 77.4° | 77.1° |
| SADDLE HEIGHT FOR EFFECTIVE ST ANGLE (mm/in) | 600 / 23.6 | 660 / 26 | 720 / 28.3 | 780 / 30.7 |
| ACTUAL ST ANGLE | 72.5° | 72.5° | 72.5° | 72.5° |
| SEAT TUBE OFFSET AT BB (mm/in) | 65 / 2.6 | 65 / 2.6 | 65 / 2.6 | 65 / 2.6 |
| F. HEAD TUBE LENGTH (mm/in) | 110 / 4.3 | 110 / 4.3 | 120 / 4.7 | 130 / 5.1 |
| G. HEAD TUBE ANGLE | 64° | 64° | 64° | 64° |
| H. CHAINSTAY LENGTH (mm/in) | 455 / 17.9 | 455 / 17.9 | 455 / 17.9 | 455 / 17.9 |
| I. WHEELBASE (mm/in) | 1221 / 48.1 | 1251 / 49.3 | 1280 / 50.4 | 1315 / 51.8 |
| J. BOTTOM BRACKET DROP (mm/in) | 30 / 1.2 | 30 / 1.2 | 30 / 1.2 | 30 / 1.2 |
| K. ESTIMATED BB HEIGHT (mm/in) | 340 / 13.4 | 340 / 13.4 | 340 / 13.4 | 340 / 13.4 |
| L. STAND OVER HEIGHT (mm/in) | 705 / 27.8 | 715 / 28.1 | 720 / 28.3 | 725 / 28.5 |
| M. FORK OFFSET (mm/in) | 44 / 1.7 | 44 / 1.7 | 44 / 1.7 | 44 / 1.7 |
| Rider Height | Bike Size |
| --- | --- |
| 5'2" - 5'6" | S |
| 5'6" - 5'10" | M |
| 5'10" - 6'2" | L |
| 6'2" - 6'6" | XL |