3-Hour Curbside & In-store Pickup
Pick-up any available item at your local Sports Basement
Simply choose pickup at your store under shipping options at checkout.
Free Bike Maintenance For 6 Months
article #
The mixed wheel Patrol has a new haircut but is still down for anything. Being one of the longest standing bikes in Transition's lineup, it was the obvious choice to mix it up. Updated geometry to accommodate the 29" front / 27.5" rear wheels and revised suspension tune might just make you ride all day, and then all night. Jibbing, jumping, pumping and hooting your way down the trail, the updated Patrol loves to party. From bike parks to your local trails, the Patrol isn't concerned with where you ride but rather how much fun you are having.
Drivetrain
SRAM GX Eagle 1 x 12
Dropper Post
OneUp Dropper Post
Fork
RockShox ZEB Ultimate, 160mm Travel/44mm Offset
Tire Size
27.5"/29" x 2.4"
| Components | Parts |
| --- | --- |
| FRAME | Patrol Alloy 160mm |
| REAR SHOCK | RockShox Super Deluxe, Ultimate Air (205x60) |
| FORK | RockShox ZEB Ultimate, 160mm Travel/44mm Offset |
| HEADSET | FSA NO.55R/57 |
| STEM | ANVL Swage (40mm) |
| HANDLEBAR | ANVL Mandrel Alloy 35, SM (800x20) MD/LG/XL (800x30) |
| GRIPS | Sensus Lite |
| SADDLE | ANVL Forge Cromo |
| SEATPOST | OneUp Dropper Post |
| BRAKES | SRAM Code RSC |
| ROTORS | SRAM Centerline (200mm) |
| SHIFTER | SRAM GX Eagle |
| DERAILLEUR | SRAM GX Eagle |
| CASSETTE | SRAM XG 1275 (10-52t) |
| CHAIN | SRAM GX Eagle |
| CHAINGUIDE | OneUp Bash Guide |
| CRANK | SRAM GX Alloy DUB (32t/165mm) |
| RIMS | Stans Flow S1 |
| SPOKES | Sapim Race Double Butted |
| HUBS | Stans Neo Durasync |
| TIRE/FRONT | Schwalbe Magic Mary, Super Trail, Soft (29x2.4) |
| TIRE/REAR | Schwalbe Big Betty, Super Trail, Soft (27.5x2.4) |
| INCLUDED | Tubeless Valves & Stans Sealant (6oz) |
* Specs subject to change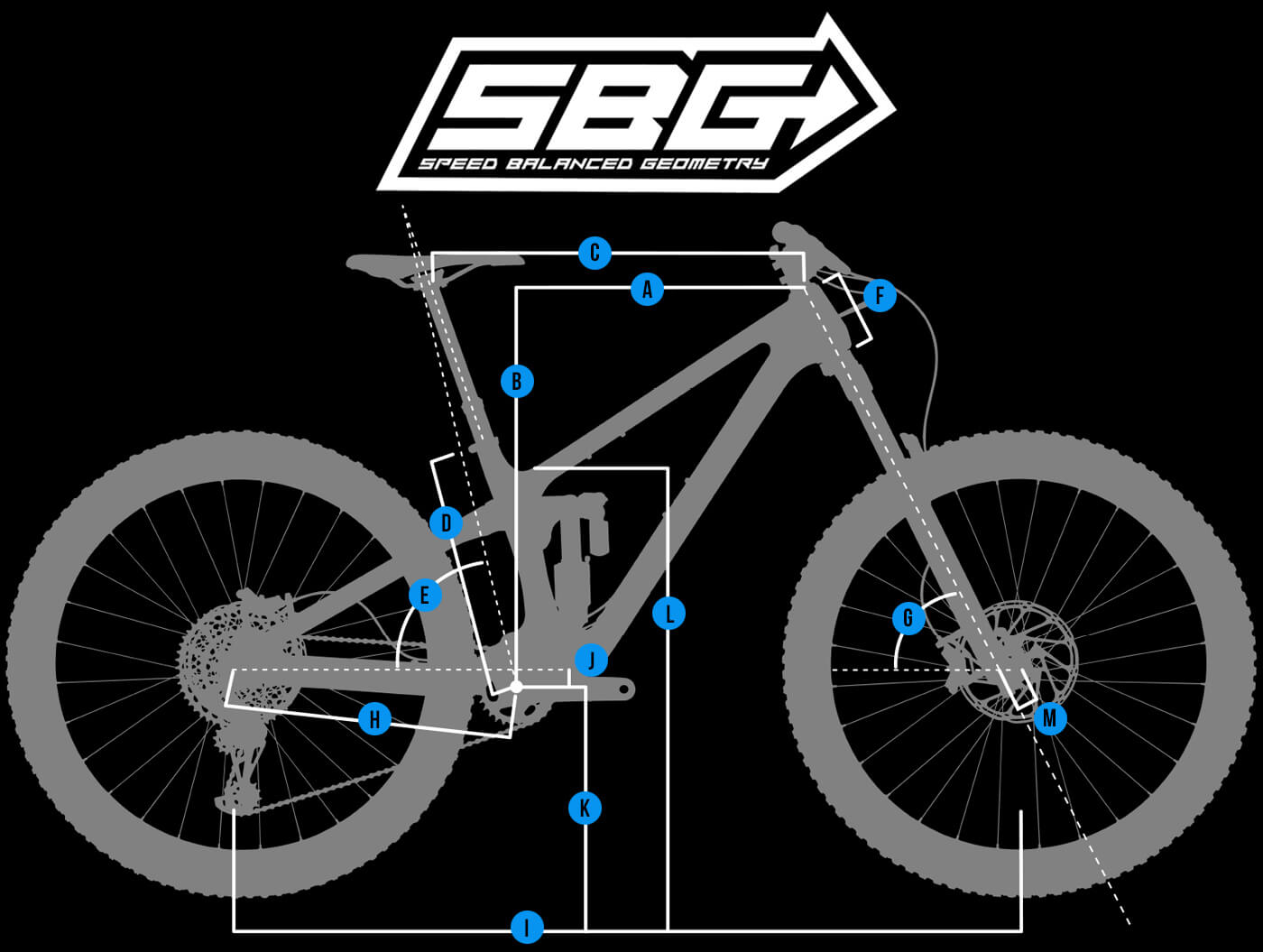 | Patrol Alloy GX | S, HIGH/LOW | M, HIGH/LOW | L, HIGH/LOW | XL, HIGH/LOW |
| --- | --- | --- | --- | --- |
| A. REACH (in) | 16.5 / 16.3 | 17.9 / 17.7 | 18.9 / 18.7 | 20.0 / 19.8 |
| B. STACK (in) | 24.5 / 24.7 | 24.5 / 24.7 | 24.8 / 25.0 | 25.2 / 25.4 |
| C. EFFECTIVE TT LENGTH (in) | 21.2 / 21.3 | 22.6 / 22.7 | 23.7 / 23.8 | 25.0 / 25.1 |
| D. SEAT TUBE LENGTH (in) | 14.2 | 15.4 | 16.9 | 18.1 |
| E. EFFECTIVE ST ANGLE | 79.6° / 79.1° | 78.8° / 78.3° | 78.1° / 77.6° | 77.5° / 77° |
| SADDLE HEIGHT FOR EFFECTIVE ST ANGLE | 23.6 | 26.0 | 28.3 | 30.7 |
| ACTUAL ST ANGLE | 70.5° / 70° | 70.5° / 70° | 70.5° / 70° | 70.5° / 70° |
| SEAT TUBE OFFSET AT BB (in) | 3.9 | 3.9 | 3.9 | 3.9 |
| F. HEAD TUBE LENGTH (in) | 3.9 | 3.9 | 4.3 | 4.7 |
| G. HEAD TUBE ANGLE | 63.5° / 63° | 63.5° / 63° | 63.5° / 63° | 63.5° / 63° |
| H. CHAINSTAY LENGTH (in) | 17 / 17.1 | 17.0 / 17.1 | 17.3 / 17.4 | 17.3 / 17.4 |
| I. WHEELBASE (in) | 47.0 / 47.1 | 48.4 / 48.5 | 49.8 / 49.9 | 51.2 / 51.3 |
| J. BOTTOM BRACKET DROP (in) | 0.6 / 0.8 | 0.6 / 0.8 | 0.6 / 0.8 | 0.6 / 0.8 |
| K. ESTIMATED BB HEIGHT (in) | 13.3 / 13.1 | 13.3 / 13.1 | 13.3 / 13.1 | 13.3 / 13.1 |
| L. STAND OVER HEIGHT (in) | 26.5 / 26.9 | 27.1 / 27.5 | 27.7 / 30.1 | 28.3 / 28.7 |
| M. FORK OFFSET (in) | 1.7 | 1.7 | 1.7 | 1.7 |
| Rider Height | Bike Size |
| --- | --- |
| 5'2" - 5'6" | S |
| 5'6" - 5'10" | M |
| 5'10" - 6'2" | L |
| 6'2" - 6'6" | XL |